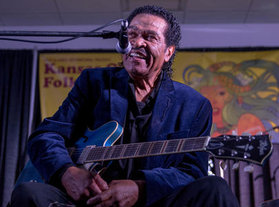 A tribute to Blues legend Bobby Rush will be held on Friday, November 30, 2018, at 7:00 p.m., in the Pine Bluff Convention Center's lobby (more below). The tribute, hosted by the Delta Rhythm & Blues Alliance, starts with a Meet and Greet followed by the Catfish and Blues Dinner. Another highlight of the evening will be the Freedom and Blues Folk Art Show. Participants can top off the evening with the Blues Bash After Party.
Rush, a Blues guitarist, vocalist, and harmonica player, is a 2017 Grammy winner, with four nominations, and a member of the Blues Hall of Fame. He has earned the Blues Music Award 12 times and the designation of B.B. King Entertainer of the Year.
Bobby Rush: The Legend Next Door
The man we all know as Bobby Rush came into the world as Emmet Ellis, Jr., in Homer, Louisiana; he and his family moved to Sherrill, Arkansas, when he was 11 years old, and later to Pine Bluff. His musical talent emerged at an early age, as did his industrious nature: the child did not have a guitar, so he simply made one. Over time, Rush acquired a guitar and learned harmonica, too; his vocal skills were natural. Among his earliest gigs were performances at Nappy's and Jitterbugs, iconic juke joints of Pine Bluff's music scene of the day. He was still a teen.
Since then Rush has lived in Chicago (mid-1950s to early 1980s), where he first worked with Earl Hooker, Luther Allison, and Freddie King, to name a few, and then Jackson, Mississippi, his current home. He has performed around the world and cut about 400 songs. Even now, in his eighties, he performs more than 200 dates annually.
Bobby Rush and Pine Bluff's Music Heritage
Bobby Rush's contributions to Pine Bluff's music heritage led the Delta Rhythm & Bayous Alliance (DRBA) to sponsor this tribute. The event, like DRBA itself, was the brainchild of DRBA's Board Director Jimmy Cunningham, Jr. Mr. Cunningham's extensive research of arts and music heritage in the Delta Lowlands spurred him to co-author a book on the topic: Delta Music and Film: Jefferson County and the Lowlands. He then began a heartfelt campaign to spread the word about the many highly successful musicians, artists, and writers who have close ties to Jefferson County, Arkansas, including Pine Bluff, and the Delta Lowlands in general. A natural extension of his efforts was a plan for heritage-based tourism, and voilá: the Delta Rhythm & Bayous Alliance was born.
The DRBA is laying the groundwork for heritage tourism in the Delta Lowlands, a region that includes southeast Arkansas as well as portions of western Mississippi and northern Louisiana. Key to this is building a heritage-themed corridor for future tourist attractions. That is exactly why Arkansas and Mississippi both designated Delta Rhythm & Bayous Highways, the stretch of Highway 65 in southeast Arkansas, from Pine Bluff to Lake Village, and then across the river to Highway 82's leg through Greenville, Mississippi, and Leland. There the Delta Rhythm & Bayous Highway intersects with The Blues Highway, the portion of Highway 61 that runs north-south between Olive Branch and Vicksburg.
In addition to heritage-based tourism, the DRBA seeks to foster concerts, art exhibits, and other regional heritage activities. In the long run, the goal is to open the door for entrepreneurs to run such attractions. Plus DRBA itself plans to join the fun by sponsoring exhibits, tributes, and public education measures. What a fantastic start the Bobby Rush tribute is.
---
Tribute to Blues Legend Bobby Rush
Dinner and Tribute Program
Meet and Greet with Bobby Rush
Catfish & Blues Dinner
Freedom & Blues Folk Art Show
Blues Bash After Party
Dress is casual.  Here are the event planning details:
November 30, 2018, 7:00 to 10:00 p.m.
Pine Bluff Convention Center Lobby
1 Convention Center Plaza
Pine Bluff, AR 71601
870-536-7600
Ticket Information
Tickets: Ticket cost of $20 covers both program and dinner. Tickets can be purchased online or at local outlets.
Online purchase through Event Brite.
Local purchase through ticket outlets:
Father and Sons Clothier
2801 S. Olive Street, #35A, Pine Bluff, AR 71603
870-536-7848
Novel T's
1616 S. Linden Street, Pine Bluff, AR 71603
870-534-0233
Ticket holders:  Doors open at 5:00 p.m. Come enjoy the Blues Folk Art Show and vendor booths.
Sponsored by the Delta Rhythm & Bayous Alliance

Funded by the Pine Bluff Advertising and Promotion Commission