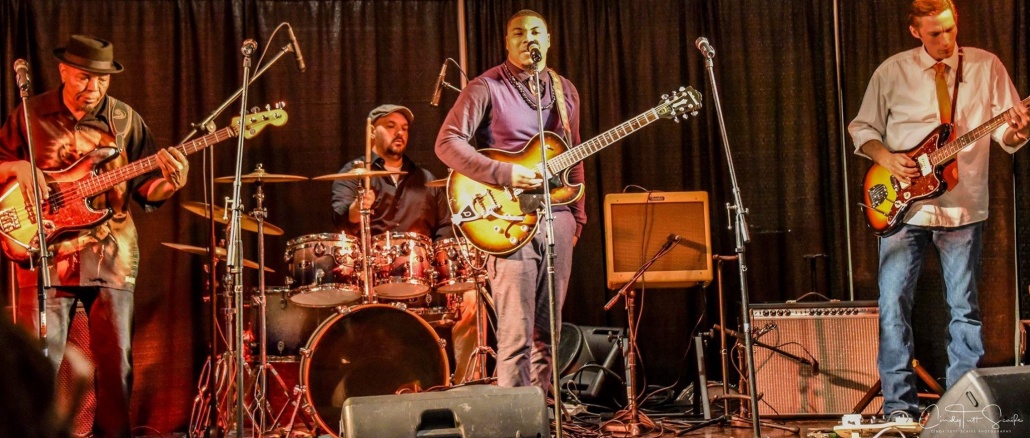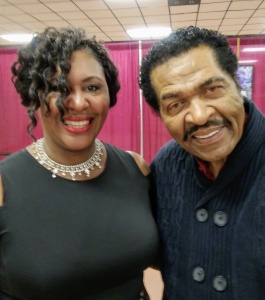 In spite of the storms outside, Pine Bluff enjoyed a starlit Friday night with a tribute to Grammy winning Blues legend Bobby Rush. Rush, born Emmet Ellis, Jr., moved with his family to Sherrill, Arkansas, at age 11 and later to Pine Bluff where he started his career.
The tribute, held on Friday, November 30, at the Pine Bluff Convention Center, was sponsored by the Delta Rhythm and Bayous Alliance (DRBA), with its leader Jimmy Cunningham, Jr., spearheading the efforts with gusto. The Pine Bluff Advertising and Promotion Commission provided funding.
Preceding the tribute, guests enjoyed the Freedom and Blues art exhibit. The works were created by the Delta Rhythm & Bayous Artist Collective: Justin Thomasson, LeRon MacAdoo, Markeith Woods, Rashawn Penister, Grace Sanchez, Brandon Maddox, and Ariston Jacks. Their artwork depicted Blues musicians with ties to Jefferson County and the link between Blues music and African Americans' struggles for civil rights — and oftentimes for life itself.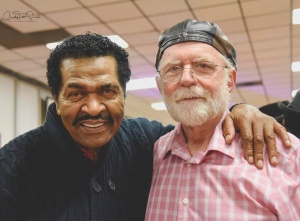 The tribute program included a meet-and-greet in the art show area where Rush greeted people with his hallmark warm-hearted smile. Guests were served dinner by Renita Harper's catering service while DRBA Board President Jimmy Cunningham, Jr. , area Blues musicians, and local officials from Pine Bluff and Sherrill, Arkansas, told his story and paid homage.
Not surprisingly, the very man who designed the event with the Blues-social-civil rights exhibit, Mr. Cunningham, also addressed the history of an entire music genre born of the pain and triumphs of the fights for civil rights, as did Dr. John Kirk of the University of Arkansas at Little Rock. Pine Bluff Mayor Shirley Washington presented a replica of a street sign for the soon-to-be-named Bobby Rush Way, a segment of what is now Third Street in downtown Pine Bluff. Likewise, Sherrill Mayor Jody Dinnis shared local designations and honors bestowed by Rush's other Jefferson County home town.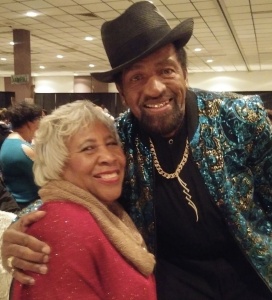 Near the end of the tribute, a special moment came from Pine Bluff icon Larry Ellis who shared a more personal story of his brother. Mr. Ellis concluded by presenting a homemade guitar that he himself crafted, modeled after the one that Bobby Rush had made as a child.
In the meantime, Blues musicians with area ties performed music to honor Bobby Rush: Diane Crockett, a former dancer with the Bobby Rush Band and current owner of Di's Bar and Grill; Marcus "Mookie" Cartwright; and The Brian Austin Band. Another well known Pine Bluff Blues musician, Dave Sadler, addressed Bobby Rush's achievements from the perspective of a fellow performer.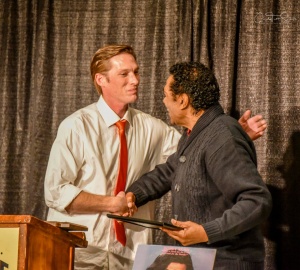 At the end, Rush himself spoke briefly, expressing gratitude and acknowledging the significance of the moment, before wowing the audience with his vocal and harmonica piece Garbage Man. His clear, Blues-y timbre just melted the audience as he sang a romance story in humorous terms. He did this while bringing in the harmonica's beautifully resonating phrases between lyrics, all without ever missing a beat. The lyrics themselves told the story of a man determined to get himself a garbage truck after he lost his true love to a garbage man. There was no giving up in the song's story, a perfect parallel to Bobby Rush's own pursuit of life.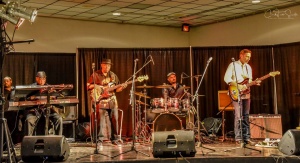 After the tribute program, the Lady Di and Friends Band provided music for guests who chose to dance. Others viewed the Freedom and Blues Art Exhibit or visited more with Bobby Rush.
The Reason for the Tribute: Bobby Rush
The man known as Bobby Rush came into the world as Emmet Ellis, Jr., in Homer, Louisiana; he and his family moved to Sherrill, Arkansas, when he was 11 years old, and later to Pine Bluff. His musical talent emerged at an early age, as did his industrious nature: the child did not have a guitar, so he simply made one. Thus the gift of the homemade guitar from brother Larry Ellis is quite meaningful. Over time, Rush acquired a guitar and learned harmonica, too; his vocal skills were natural. Among his earliest gigs were performances at Nappy's and Jitterbugs, iconic juke joints of Pine Bluff's music scene of the day. He was still a teen.
Since then Rush has lived in Chicago (mid-1950s to early 1980s), where he first worked with Earl Hooker, Luther Allison, and Freddie King, to name a few, and then Jackson, Mississippi, his current home. He has performed around the world and cut about 400 songs. Even now, in his eighties, he performs more than 200 dates annually.
The Vision Behind the Tribute: Delta Rhythm and Bayous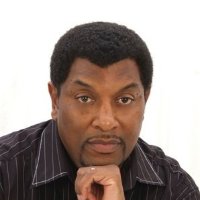 Bobby Rush's contributions to Pine Bluff's music heritage provide a great example of the Delta Rhythm & Bayous Alliance (DRBA) mission. DRBA, the brainchild of Board Director Jimmy Cunningham, Jr., plans heritage-based public education, including a future museum, and tourism.
Key to this is building a heritage-themed corridor for future tourist attractions in the Delta Lowlands. Indeed, both Arkansas and Mississippi have designated Delta Rhythm & Bayous Highways, the stretch of Highway 65 in southeast Arkansas, from Pine Bluff to Lake Village, and then across the river to Highway 82's leg through Greenville, Mississippi, and Leland. There the Delta Rhythm & Bayous Highway intersects with The Blues Highway, the portion of Highway 61 that runs north-south between Olive Branch and Vicksburg.
In addition to heritage-based tourism, the DRBA seeks to foster concerts, art exhibits, and other regional heritage activities along the heritage corridor, initially in the anchor cities of Pine Bluff and Greenville. In the long run, the goal is to open the door for entrepreneurs to run such attractions. DRBA itself plans to participate directly by sponsoring more tributes like this one as well as exhibits and public education.
---
In addition to the Delta Rhythm & Bayous Board and the Bobby Rush Dinner Tribute Steering Committee, acknowledgements for the event go to the following individuals and organizations:
Father and Son Clothiers — ticket outlet
Novel T's — ticket outlet
Delta Rhythm & Bayous Artist Collective: Justin Thomasson, LeRon MacAdoo, Markeith Woods, Rashawn Penister, Grace Sanchez, Brandon Maddox, and Ariston Jacks — Multiple works of art for the Freedom and Blues Art Exhibit
Tresha L. James with son DQ — Design, implementation, and oversight of the juke joint set and exhibits
Jerry Gray — created the juke joint facade and provided consults on set layout and design
L.B Strickland — contributed numerous items for set and exhibit displays and banquet table settings including many records and furniture
Delton Wright — contributed items for set, exhibit, and banquet table
Satchel Ray Meadows — contributed items for set, exhibit, and banquet table
Darla Henderson Barr — contributed items for set, exhibit, and banquet table
Virginia Hymes — contributed items for set, exhibit, and banquet table
David Maddox — contributed items to juke joint set
Antoine Bennett — artistic design, graphic layout, and production of event poster, tickets, and program
Pine Bluff A & P Commission — primary funding of the event
Alicia Cunningham — planning, coordination, oversight, decorations
Cam Cunningham — planning, oversight, decorations, photography
Roslyn Burks — planning, oversight, decorations, ticket sales
Dornetta Hobbs — planning, oversight, decorations
---