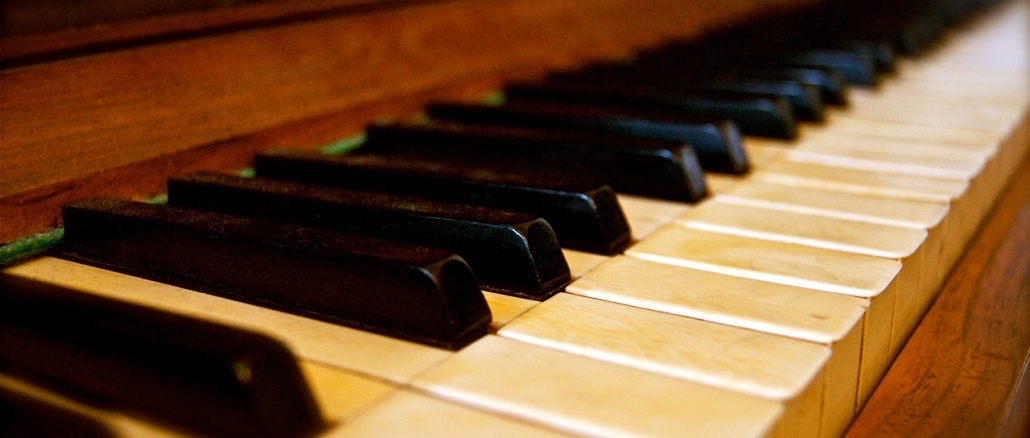 In the height of the Blues era, leading artists made his songs the staples of major recording studios. They modeled his style as it formed the backbone of an entirely new line of Blues known as Boogie Woogie. This upbeat dance music boomed from recordings and performance venues in major cities here and abroad. But the music's roots grew from the Delta (Cunningham & Cunningham, 2015). And this man the Blues industry followed — George W. Thomas, Jr.1 — was born and raised in Jefferson County, Arkansas.
Thomas galvanized the Blues by showcasing strong bass lines with creative flares and rhythms made for dancing (Grogan, 2018). In his day, these stylistic elements were quite new — even daring. His contributions, written for piano, include one of the first songs with a Boogie Woogie style bass line, New Orleans Hop Scop Blues, as well as the first recorded Boogie Woogie piece, The Rocks (Cunningham & Cunningham, 2015). Over time, Thomas would write over one hundred Blues pieces, perform piano solos, and accompany countless famous vocalists.
To top all that, Thomas ran a music publishing company, at first with a business partner and later as a sole proprietor (Silvester, 2009). Publishing pieces, which facilitated their dissemination, was good business practice. What this meant for music heritage, though, was memorializing Boogie Woogie over the generations.
All his accomplishments are what put Boogie Woogie on the map. And Boogie Woogie was key to the development of Country Music, Rhythm and Blues, and Rock and Roll. Of course, Boogie Woogie is worth knowing just for its own merits. And so is the story of George W. Thomas.
Homegrown Blues: The Plum Bayou Years
George W. Thomas' Childhood
George Washington Thomas, Jr., born on March 9, 1883, was the second eldest of thirteen children of Fannie Bradley (also born in Arkansas) and George Washington Thomas, Sr. (Silvester, 2009; Eagle & LeBlanc, 2013; and Pinsker, 2016).2  He and most of his siblings were born in Plum Bayou (Jefferson County), Arkansas, near Pine Bluff.
The Thomas family was a church-going one, and Thomas undoubtedly learned music initially through church.3 Music was an important part of the religious experience, and oftentimes churches had the musical instruments that most families could not afford. Not surprisingly, many developed and honed their musical skills as a part of their worship.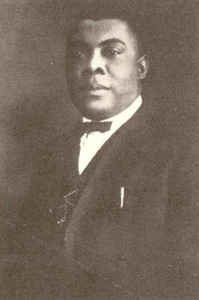 Also, Thomas and his siblings surely experienced Blues performances outside of church, whether in the homes of friends or other venues. Travelling musicians, especially pianists, followed circuits along river or railroad towns — nearby Pine Bluff was both — and performed at juke joints.4  Likewise, traveling theatrical groups followed similar paths to perform their tent shows, welcome attractions in areas that had no opera houses.5 Based on the region and era, Country Blues, affiliated with traveling musicians, and Delta Blues would have shaped his early exposure to secular music. The vocalists of these genres sang soulful lyrics that told their life stories and struggles, oftentimes metaphorically. Typical instrumentation would have included one or more of piano, acoustic guitar, banjo, or harmonica.
Regardless of how he built musical talent, George W. Thomas learned the piano6 in the Blues tradition and learned it well; he also learned to read music and eventually to compose music. By the time the Thomas family was ready to move from Arkansas to Texas, George W. Thomas, Jr., had developed enough skill that his not-so-distant music career fell into place quite readily.
Dancing Bass Lines: The Houston Years
George W. Thomas' Early Adulthood
Around 1899 or 1900, the Thomas family moved to Houston (Pinsker, 2016).7  Among the talented family members were Thomas' younger siblings Sippie Wallace and Hersal Thomas, both of whom developed notable talent under their older brother's tutelage. The three would collaborate through their adult years (Silvester, 2009; Cunningham & Cunningham, 2015; Pinsker, 2016).
Around 1903, Thomas married Octavia Malone (Eagle & LeBlanc, 2013), and they had a daughter Hociel in 1904. Octavia Malone Thomas died soon after, though,8 and Hociel was raised by her grandmother, Fannie Thomas, and her aunt, Sippie Wallace. She and her father were in each other's lives, though, and Hociel herself pursued music, mainly as a vocalist.
Music Career Launched
Also in the early 1900s, Thomas launched a full music career, as the 1910 Census lists his occupation as a musician for the first time (Pinsker, 2016).9  He provided music for silent movies (Silvester, 2009) and theatrical performances (Pinsker, 2016). That much is known; but he likely played at parties and music joints also. Around 1910 or 1911, Thomas met Clarence Williams, a fellow musician in the theater circuit (Pinsker, 2016). Williams also owned a publishing company, something that Thomas would learn from Williams and pursue throughout his career.
By now, Thomas' career had ventured into composing as well as performing. His style, already distinctive, included some older influences — Blues with a touch of Ragtime — plus his newer dance-driving rhythms. He wrote Hop Scop Blues, his best known composition at the time, at least by 1911 (perhaps sooner) and was known for performing it as well.  This Blues piece featured an introduction with diminished seventh chords, an obvious influence of Ragtime (also a piano genre) (Grogan, 2018).10  What was innovative to Blues music was Hop Scop Blues' walking bass pattern with broken octaves (Grogan, 2018; Pinsker, 2016) and grace notes (Grogan, 2018).
Boogie Woogie Blues: The New Orleans Years
By 1914 George W. Thomas and Clarence Williams had moved to New Orleans (Silvester, 2009; Pinsker, 2016). Thomas joined his friend in publishing music (Pinsker, 2016) and continued to compose; both performed at parties known as chitlin struts (Silvester, 2009), held by African Americans during segregation. Thomas' popularity plus his bass-driven dance style led to his nickname:  Gut Bucket George (Silvester, 2009). Blues enthusiasts know that gut bucket refers to a gut bucket bass, a handmade instrument made of an inverted wash bucket (sometimes called a gut bucket), a stick, and one or four strings. This instrument served as a bass fiddle and, over time, gave rise to the subgenre's nickname Gut Bucket Blues.11
Recognition of Thomas' talent only grew, especially with his 1916 publication of The New Orleans Hop Scop Blues, his earlier Hop Scop Blues with a title tweak and eighth notes replacing grace notes (Grogan, 2018). People loved its walking bass line and dancing rhythm. Little did they know that Bessie Smith would one day record this piece (in 1923), though with modified lyrics (Pinsker, 2016).
Other pieces Thomas wrote during his New Orleans years, still built on charging bass patterns but also interlaced with Ragtime elements, include The Bull Frog Rag, That Rat Proof Rag, and Houston Blues (Grogan, 2018). The popular demand of this style clearly opened the door for Thomas to develop what we now know as Boogie Woogie (Grogan, 2018).
Boogie Woogie on a Roll
In his later New Orleans years, George W. Thomas, clearly on a roll now, wrote what would become a future hit, Muscle Shoals Blues, and copyrighted it in February 1919; however, he did not publish it until later (Pinsker, 2016), perhaps because he was nearing a long-distance move. But this instrumental piece born in New Orleans made a splash when Thomas did make it known in Chicago.12
George W. Thomas' last copyright in New Orleans was in January of 1920:  I'll Give You a Chance to Be Good (Pinsker, 2016). Some time later that year, he moved, as his next copyright was in Chicago in August of 1920: I Can't be Frisky without My Whiskey. Other than the year, little is known about the context of his move. This was, of course, during the Great Migration when many African Americans migrated from southern states to Chicago for personal, economic, and social reasons.13
Blues Legacy Unleashed: The Chicago Years
The Chicago years proved to be the zenith of George W. Thomas' career. All that was needed to unleash his Blues legacy was future retrospection. At the time, Thomas simply continued his music's hallmark style, an upbeat Country Blues or, by this time, what some may call Classic Blues. Though he did gradually add an urban Blues sound, the brand he brought with him was wildly popular.
George W. Thomas: Model for Other Musicians
In August 1921, he published his earlier composition Muscle Shoals Blues (Pinsker, 2016), and it became quite a hit. Clearly meant for dancing, this lively piece features piano riffs built on tenths chords. Its overlay of Ragtime qualities in the treble lines gave it a fun, light-hearted feel while its Boogie-Woogie bass lines just moved the piece and its dancers through its entirety.
The reach of Thomas' music extended beyond fans and party-goers to other musicians, from students to famous veterans of the industry. Well-known artists who recorded this tune included James P. Johnson who played the QRS piano roll tune released in April 1922 (Pinsker, 2016) and Johnson's protégé Thomas "Fats" Waller who played Muscle Shoals Blues as a piano solo in October of that same year. It was Waller's first record.
Business-wise, Thomas was now the sole owner of the George W. Thomas Music Publishing House and had been since before his move. He still did business with his friend and colleague Clarence Williams who had moved to Chicago a couple of years before. Later, by 1923 at least, his siblings Sippie Wallace and Hersal Thomas and daughter Hociel caught up with him; Chicago was their base while they traveled for their Vaudeville performances (Silvester, 2009).14
Piano Blues with a Touch of Chicago
By December of 1921, he and his brother Hersal had copyrighted their co-written song, The Fives, and published it in 1922 (Silvester, 2009; Pinsker, 2016; Grogan, 2018). The Fives, with a little less Ragtime and a touch of Chicago style, was inspired by train travel between Chicago and San Francisco. This piece marked history as the first to add a standing bass line, a pattern of two or more simultaneous notes — same lower note each time with changing pitches above it (Grogan, 2018).15 It also was among the first Boogie Woogie pieces published with a consistent boogie bass line throughout.
Historians and Blues musicians credit The Fives with inspiring an entire generation of Boogie Woogie pianists, not the least of whom are Meade Lux Lewis and Albert Ammons (Silvester, 2009; Pinsker, 2016); established artist Clarence Lofton recorded this hit as well (Grogan, 2018).
Around 1922, Thomas wrote The Rocks, another of his most famous compositions. In February 1923, a pianist named Clay Custer recorded this song with Okeh Records. Many believe Clay Custer to be a pseudonym for George W. Thomas, Jr., himself, though definitive proof may never be found.16 Regardless, this piece made history as another genre-defining piece as the first sound recording with a Boogie-Woogie style walking bass. The Rocks also incorporates Thomas' arching bass pattern, a style that Thomas was the first to use (Grogan,2018).
Recording Studio Favorites
George W. Thomas was obviously a renowned composer by this point, as evidenced by famous musicians and major recording studios choosing his songs. His siblings, also earning fame by now, and Thomas himself recorded his compositions as well. Sippie Wallace's first recordings include Thomas' compositions Shorty George Blues and Up the Country Blues (recorded by Okeh in 1923) with Eddie Heywood as the accompanist (Pinsker, 2016). That same year, Thomas accompanied Tiny Franklin in recordings of several Thomas compositions on Gennett Records, including these same two that Sippie Wallace had just recorded (Silvester, 2009; Grogan, 2018). His brother Hersal's band, the Muscle Shoals Devils, performed and recorded several (DAHR, 2018). Thomas also played the piano rolls for a few of his own songs, even a few co-written with Sippie Wallace or Hersal Thomas: Shorty George Blues, Caldonia Blues, and Washwoman Blues (Pinsker, 2016).
Heaven's Call for Hersal
Amidst George W. Thomas' music legacy taking off during these years, another family loss struck. His brother Hersal suddenly passed away just before his twentieth birthday in 1926. Thomas wrote and published They Needed a Piano Player in Heaven So They Sent for Hersal (Pinsker, 2016), a tribute to his younger brother's life and legacy.
Thomas continued to compose music and accompany singers, including Ethel Bynum who performed two of his pieces: Rest Yo' Hips (copyrighted and recorded in 1926) and Bed Room Blues, with the latter song's lyrics credited to Bynum (Pinsker, 2016). In 1928, Thomas accompanied Lillian Miller for a recording in the Gennett studio to record Thomas' Butcher Shop Blues (copyrighted earlier that same year), You Just Can't Keep A Good Woman Down, (published in 1916, back in his New Orleans days), and a few other of his compositions.
Enduring Music Legacy
By the late 1920s, George W. Thomas' composing and publishing slowed significantly. From 1928 to the mid-1930s, he wrote a few more songs but far fewer than in previous decades. George W. Thomas himself passed away in March of 1937, just a few days before his 54th birthday, presumably as the result of a fall down a flight of stairs. Weather conditions at the time do not suggest that the stairs would have been slick (Pinsker, 2016), leaving one to wonder, given his decreased career activity, if health conditions might have contributed to the fall. This last point is merely speculation, of course.
For readers who wish to learn more of George W. Thomas and his music, the sources cited here are worth reading. Also, his sheet music can be ordered through links in the article by Grogan (2018); generally speaking, sheet music and recordings can be found through typical online sources. In the meantime, enjoy the videos of various musicians performing George W. Thomas' compositions:
Ragtime-influenced Blues piece: Muscle Shoals Blues
Song originally entitled Hop Scop Blues, written in Houston: New Orleans Hop Scop Blues
Train travel-inspired song and smash hit: The Fives.
---
Sources
Cunningham, Jimmy, Jr., & Cunningham, Donna (2015). Delta Music and Film: Jefferson County and the Lowlands. Arcadia Publishing, Charleston, SC. ISBN 978-1-4671-1395-3; Ebook ISBN 9781439650738.
Discography of American Historical Recordings (DAHR) (2018).  "George W. Thomas (composer)."  In: Discography of American Historical Recordings, s.v. University of California at Santa Barbara Library.  https://adp.library.ucsb.edu/index.php/talent/detail/62116/Thomas_George_W._composer. Accessed August 25, 2018.
Eagle, Bob, & LeBlanc, Eric S. (2013).  Blues: A Regional Experience. p. 524. Praeger, Santa Barbara, CA ISBN 978-0-313-34423-7; EISBN 978-0-313-34424-4
Grogan, Charles (2018).  George W. Thomas.  http://pianobluesreview.com/george-w-thomas/
Harrison, Daphne Duval (1988, 1990). Chapter 4: Up the Country … And Still Singing the Blues: Sippie Wallace.  Black Pearls:  Blues Queens of the 1920s, pp. 114-120. Rutgers, The State University.
Pinsker, Robert I. (2016).  George W. Thomas and Hersal Thomas.   http://www.sandiegoragtime.com/ThomasBrothersEssayFiles/GWTessay.html
Silvester, Peter J. (2009). A Left Hand Like God: A History of Boogie-Woogie Piano, 2nd ed., pp. 11-15, 50-54.  Scarecrow Press, Inc., a subsidiary of The Rowman & Littlefield Publishing Group, Inc.
Uecker, Catherine (2018). Chicago Jazz: Chicago, Jazz, and the Great Migration. University of Chicago Library Guides. http://guides.lib.uchicago.edu/c.php?g=297184&p=1983837  Accessed August 25, 2018.
Wang, Richard (1988). Researching the New Orleans-Chicago Jazz Connection: Tools and Methods. Black Music Research Journal, 8 (1), pp. 101-112.
---
Endnotes