Mark your calendars:  On October 19, A Blues Concert Featuring Bobby Rush, along with Karen Wolfe and Marcus "Mookie" Cartwright, will be going down at the Pine Bluff Convention Center, sponsored by the Delta Rhythm and Bayous Alliance (DRBA) (more below).  The event will also honor five musicians with ties to the area:  Detroit Johnny, Joe Pitts, Vernon Garrett, Minnie Epperson King, and CeDell Davis.  Proceeds will go to the DRBA's Freedom and Blues Exhibit at the UAPB Business Center.  
The Blues Concert:  World-Class Performance with Local Roots
The Blues Concert features Blues musicians from the Delta Lowlands, all with close ties to Pine Bluff.  In addition to world-class Blues music, the event will honor the performers and five other musicians with ties to the area. While introducing those being recognized and honored, the audience will get a glimpse of the rich Blues music heritage of Pine Bluff and the Arkansas Delta Lowlands.
About the Performers
Bobby Rush
Born Emmet Ellis, Jr., this legend next door kind of guy was born in Homer, Louisiana. Rush moved to Arkansas at age 11, landing first in Sherrill and then Pine Bluff.  He was still in his teens when he began his career at juke joints such as Nappy's and Jitterbugs on 3rd Street in downtown Pine Bluff, a stretch now known as Bobby Rush Way.  Back in the day, he earned chitlins and change.1
Bobby Rush's reach has long since expanded to venues worldwide. Over time, he has performed with Earl Hooker, Luther Allison, and Freddie King; Rush himself is sought after by those wanting on stage with a world-class performer. He has cut several hundred songs and, to this day, performs over 200 dates annually. His hits include "Porcupine Meat," "Show You a Good Time," and "Night Fishin'."
DRBA's Blues Concert on October 19 is Rush's second DRBA event.  In November of 2018, a Tribute to Bobby Rush included dinner and tributes by officials and fellow Blues artists Brian Austin, Dave Sadler, Diane Crockett,2 and Marcus "Mookie" Cartwright. The evening ended with Rush delighting attendees with a performance of his voice and harmonica piece "Garbage Man."
Karen Wolfe 
A Pine Bluff native, Karen Wolfe has earned national acclaim for her Gospel, Soul, and Blues talents; at moments, she blends stylistic elements of Rap in works from her more recent career phase.  With a smooth, smoky timbre like Ella Fitzgerald and the power of Aretha Franklin, Wolfe delivers both the strength and the pizzazz of a real Pine Bluff woman. 
Her career began during her teen years with the Gospel quartet The Harmonettes, later known as Direction. Over time, she moved into Soul and Blues as a singer performing with Denise LaSalle.  Wolfe set out on her own over a decade ago, starting with the album "First Time Out" (2006).  Subsequent albums include "A Woman Needs a Strong Man," "Telling It Like It Is," and "No Regrets."
Marcus "Mookie" Cartwright
This Delta-born vocalist and guitarist also started his career as a teen; in Marcus Cartwright's case, that was not entirely long ago. Stuttgart, Arkansas, native Cartwright's masterfully delivers many a style, oftentimes Delta Blues, Chicago Blues, Soul, or some blend.  He is known to many for his electric guitar prowess, but his talent on the acoustic is astounding as well. 
Cartwright's performances, like those of Rush and Wolfe, did not take long to expand to regional and national venues. Among those are Blues spots in Pine Bluff where he has performed solo and has also blended right in with local musicians. Cartwright's hits include "Howling Wolf Medley" and "Rock Me Baby."
Additional Honorees
Five additional musicians with ties to the area will be honored during breaks.
Detroit Johnny
The legendary Detroit Johnny began his career at the age of 11 when he started as a guitarist began playing with Robert Nighthawk's band.  His storied career spans years and an untold number of musical performances with many other Blues icons. Currently, he performs with his group Detroit Johnny and the Delta Soul Children, oftentimes in Pine Bluff, as well as with other area musicians.3 4  Detroit Johnny's hits include "The Calahula Man" and "Deep South Boogie."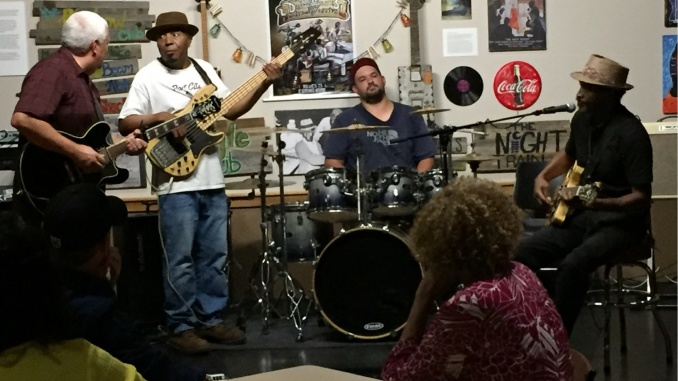 Joe Pitts
A native of Pine Bluff, Joe Pitts wows the Blues Rock scene nationally and internationally with his phenomenal skills as a slide guitarist.  He He studied music with an emphasis on stringed instruments at Berklee College of Music. In 2008, he was inducted into the Blues Hall of Fame. His hits include "Satisfy You" and "Axe to Grind."
Vernon Garrett
Sought for his Blues, R&B, and Gospel, Garrett was born in Arkansas and spent his childhood in both Omaha, Nebraska, as well as Arkansas; even while in Nebraska, he spent significant childhood time with his grandparents here.  His hits include "I'm Too Far Gone" and "Half Past the Blues."
Honoring in Memory and Celebrating Legacies
Minnie Epperson King (1942-2013)
Born in Pine Bluff, Minnie Mae Epperson King contributed her legacy of Blues and R&B with hits such as "Nothing But the Facts" and "It'll Last Forever." Her career included back up singing with Bobby Bland, O.V. Wright, and Ike Turner, all artists who were lucky to have her. Epperson King also made the world a better place as a Civil Rights activist in Arkansas.
CeDell Davis (1926-2017)
Ellis CeDell Davis, born in the Arkansas Delta town of Helena, settled in Pine Bluff in the early 1960s. It was after this (in the early 1970s) that he started his recording career. But his live performances started when he was just 14 years old. Like Detroit Johnny, Davis performed with Robert Nighthawk in earlier phases of his career. Davis' bits include "She Got the Devil in Her" and "Feel Like Doin' Something Wrong."
Ticket Sales Proceeds for a Cause:  The Freedom and Blues Art Exhibit
Proceeds from ticket sales will benefit DRBA's Freedom and Blues Exhibit located in the UAPB Economic Research and Development Center at 615 Main Street. This exhibit features artwork and educational displays about the links between Blues music and Civil Rights, particularly in Pine Bluff and the surrounding area.  The connections between Blues and Civil Rights are intuitively obvious. Blues music was born of musically talented African Americans in a region defined by all that slavery and white supremacy had imposed on it; for generations to come, this would include lynchings, Jim Crow era tactics, and racial oppression regardless of label or era.
The arts that African Americans developed were creative expressions and creative relief, as they are for all who create art, including music. So this music genre, aptly named Blues, reflected their lives, including the daily struggle for freedom — and oftentimes outright survival.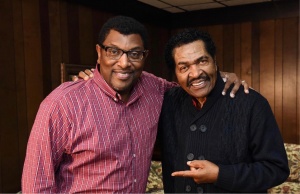 Pine Bluff and Jefferson County are steeped in this history, of course. And thus the Blues talent born of this area should be no surprise. As DRBA CEO Jimmy Cunningham, Jr., explains, "Wherever you see African American struggle, right next to it, you see African American creativity." He said this while standing at the corner of Third and State Streets in downtown Pine Bluff, as spoke of Blues and Civil Rights during the unveiling of the Bobby Rush Way signage. He went on to explain more of the local history, how lynchings had happened at Fourth and Alabama Streets, just a very few blocks away; how African Americans had faced economic oppression and daily risks to their very existence, generations past the Civil War, right here in this town, right where we all stood during the celebration and unveiling of the Bobby Rush signage.
And yet in this same downtown district, a thriving Blues music district developed. None other than Bobby Rush started his career here. Before Bobby Rush, the broader area — Pine Bluff and its neighboring Jefferson County townships — was home to George W. Thomas, Jr., Sippie Wallace, Big Bill Broonzy, Minnie Epperson King, and many others. From Big Bill Broonzy's lyrics, one selected example (oh, but only one) sums it. Here are the first two stanzas from "I Wonder When I'll Get to Be Called a Man:" 
When I was born into this world, this is what happened to me
I was never called a man, and now I'm fifty-three
I wonder when
I wonder when
I wonder when will I get to be called a man
Do I have to wait till I get ninety-three?

When Uncle Sam called me, I knowed I'd be called a real McCoy
But I got none of this, they just called me soldier boy
I wonder when
I wonder when
I wonder when will I get to be called a man
Do I have to wait till I get ninety-three?

— Big Bill Broonzy
Some things cannot be put into an equation to say one balances the other. But throughout human history, born of the strength and creativity of those who suffered pain and struggles are many beautiful art forms. Pine Bluff's own legacy of struggles and strength, oppression and creativity formed key strands of the Blues' DNA.
Learn more about this music heritage by visiting the Freedom and Blues Art Exhibit at UAPB's Economic Research and Development Center (known locally as the UAPB Business Incubator) at 615 Main Street in downtown Pine Bluff.  And support this exhibit by enjoying the Blues Concert!
Concert Details
Blues Concert Featuring Bobby Rush
Along with Karen Wolfe and Marcus "Mookie" Cartwright
Saturday, October 19, 2019, at 7:00 p.m.
Pine Bluff Convention Center
1 Convention Center Plaza
Pine Bluff, AR 71601
870-536-7600
Ticket Information
Ticket cost is $25 (in advance) or $30 (at the door if still available). Tickets can be purchased online or at local outlets.
Local purchase through ticket outlets:
Grider Field Restaurant
709 Hangar Row
Pine Bluff, AR 71601
870-536-4293
Father and Sons Clothier
2801 S. Olive Street, #35A
Pine Bluff, AR 71603
870-536-7848
Novel T's
1616 S. Linden Street
Pine Bluff, AR 71603
870-534-0233
Online purchase: A Blues Concert Featuring Bobby Rush on Event Brite
---
Sponsored by the Delta Rhythm and Bayous Alliance

Partially Funded by the Pine Bluff Advertising and Promotion Commission
Endnotes