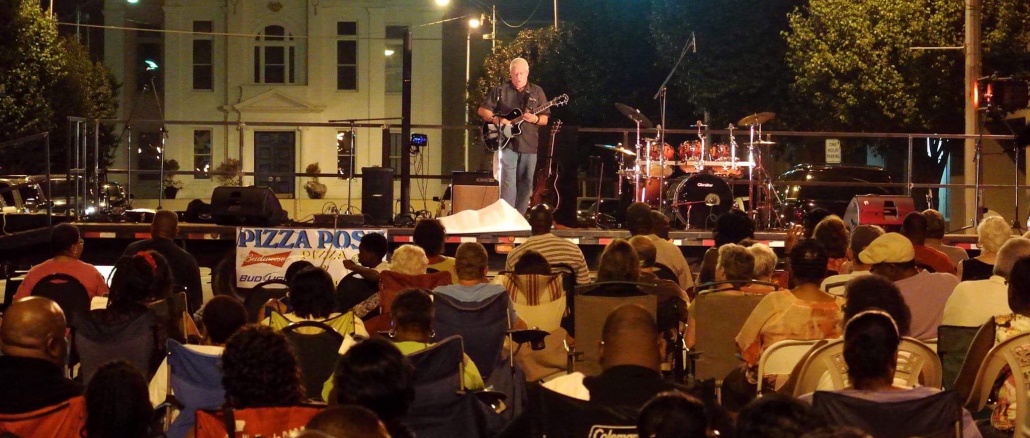 Dave Sadler, Delta-born guitarist and vocalist, does more than entertain. With his soul-touching Blues and heart-warming Jazz, he speaks directly to the sensibilities of all. Indeed, Sadler himself has described music as a universal language that unites people of all ages and backgrounds.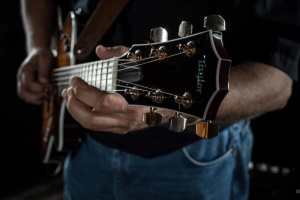 Of course, people who know him find Sadler quite personable in the many and varied aspects of his life. A lifelong musician and native of Pine Bluff, he is married to local artist Elizabeth Sadler; they have four children and one grandchild. In addition to music, he has a full-time career as a highly regarded architect and partner in the Nelson Architectural Group, Inc., in Pine Bluff. Over time, he has served as a volunteer and board member in many capacities devoted to architecture, local and urban concerns, music, and a number of charitable causes (more below).
But even those who know him only from the audience find him relatable through the bond of music. For those who wish to know more, here is his must-read story.
Music as a First Language
Sadler came by his musical talent honestly, as the saying goes, and he understood music innately even before spoken language. His mother was a piano and voice teacher in Pine Bluff, and he is a distant cousin of Johnny Cash, another Arkansas Delta native from a different part of the state. His broader environment was a hometown with a rich heritage steeped in Blues, Jazz, and other genres. Pine Bluff gave career starts to Big Bill Broonzy, Miles Davis, Cedell Davis, Jim Ed Brown, and Casey Bill Weldon, to name a few; it was the chosen home of Jazz trumpeter and educator Clark Terry well after he earned fame and acclaim.
At age 10, Sadler began piano lessons taught by his mother. By age 11, though, he decided instead to pursue the guitar, an instrument that felt more natural to him. So, with $32 he purchased his first guitar, an acoustic from Doc's Pawn Shop located on Main Street at the time. This guitar had a good sound but a warped neck that posed a challenge to beginners. Nonetheless, as Sadler explains, "I obtained every self-help book I could find and began to learn how to play." And learn to play he did, warped instrument or not. Over time, Sadler saved money to buy a Ventura acoustic guitar from Raley's Music Center.
Though Sadler, the quietly confident type, will never say as much, his talent was readily apparent by his mid-teens. Around age 16, he took a youth trip to Mountain View. While there, the youths visited the home of folk musician and songwriter Jimmy Driftwood. The entertainment for the evening started when Driftwood brought out his hand-made family guitar — made from a fence rail, ox yoke, and a bed headboard — for the younger musician to play. The two played for a couple of hours, including most notably Driftwood's own Tennessee Stud, a song about a nineteenth century man's life and travels. Though quite young, Sadler was aware of the momentous occasion: "I remember being in awe of playing Tennessee Stud with the man who wrote it and on the very guitar on which he composed it."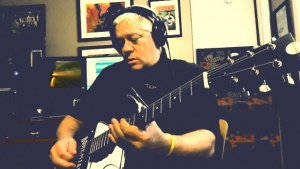 Sadler continued playing music throughout his life, though it would be years later, after his children were grown, before he played professionally. In the meantime, he steadily honed his skills and developed preferences for style, technique, and instruments. These days, he typically plays electric guitars, with a preference for semi-hollow body electric guitars that produce a warm tone well suited for Blues or Jazz. He does still enjoy an acoustic guitar, though. His most unusual guitar is an electric guitar made from an oil can, modeled after ones made by musicians who play on the streets of Johannesburg, South Africa.
Music Connections, Both Literal and Figurative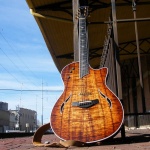 Sadler's first step toward performing professionally was to set up a recording studio, a straightforward task by his standards; this would eventually bring collaboration down the road.1 Combined with internet access, digital recording makes remote collaboration with other artists routine. Still, a notable degree of knowledge of the software and electronics are required just to set up the studio — and to make multiple recordings sound like one.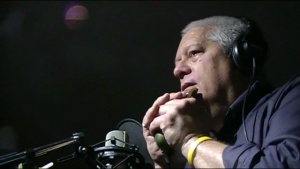 That is exactly what Sadler pulled off, though. For example, his CD release Matchbox was recorded by several musicians, each with separate studios, in four different regions: Sadler in Pine Bluff; a saxophone player in New York; drummer and bass players in Los Angeles; and a harmonica player in Ontario, Canada. Sadler took the musicians' tracks, submitted over the internet, and produced the final track master. These collaborations brought greater name recognition and more inclusion with other musicians' local and regional performances.
Music as a Bond for Many Audiences
Though he is now widely known for Blues and Jazz, from 2000 to 2009, Sadler performed with The Purple Doors, a contemporary Christian music band. Since then, his career has been in Blues and Jazz, with most of his time spent in studio recording and solo performances. Recently he has performed several times with Detroit Johnny and the Delta Soul Children.2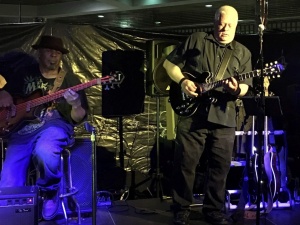 The performance venues, most frequently in central and southeast Arkansas, vary from concerts to nonprofit fundraisers to private parties. He is regularly booked for events such as Music on Main in Pine Bluff, Live at Five (Live@5) at the Arts and Science Center for Southeast Arkansas, and the Toad Suck Daze Festival in Conway, to name just a few. Sadler also participates in Pine Bluff's Blues jams at Hot Rods on Wednesday nights and at GK Restaurant and Pub on most first Fridays. It is his nature to enjoy jamming with others, including amateurs, and to give the stage to those who are up and coming.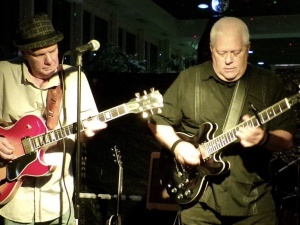 Sadler's discography is impressive as well, and his music is included in several music libraries. With BluezArt Records, he has the full CD releases Fade to Blue (2008) and Matchbox (2014) and many single releases: Fourth Street Ruckus (2011), People Get Ready (2013), Po Monkey (2013), Moondance (2016), Every Child (2018), and Masquerade (2018). His work featured on compilation releases by others includes Keeping the Blues Alive, Volume 1 (2012) and Keeping the Blues Alive, Volume 7 (2014), both produced by Peter Lauro.
Whether his music reaches peeople through live concerts, open jams, or recordings, he reaches a broad swath of people with this universal language called music. His ever-increasing popularity has ensured this. And his particular genres have some of the most diverse followings. So learn more about Dave Sadler and make plans to attend his next event. To stay posted on his news and upcoming performances, visit his website, enjoy his music on YouTube, and follow him on social media; the links and other information are below.
---
More on Dave Sadler
Dave Sadler Himself
Not surprisingly, Dave Sadler lives a well-rounded life with a variety of interests and endeavors. As mentioned above, he is married to local artist Elizabeth Sadler; this family is not lacking in creative talent. Also, this musician runs a full career as a partner in the Nelson Architectural Group; he happens to hold a degree from the University of Arkansas, Fay Jones School of Architecture, in Fayetteville, AR. The school's name sake was born in Pine Bluff, which seems quite fitting.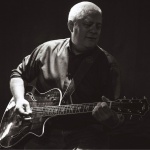 Sadler's interests and community involvement span volunteer work for charitable causes as well as board memberships. He is a past board member of the Jefferson County Habitat for Humanity and the Pine Bluff Downtown Special Events. Currently, he serves on the Pine Bluff Historic District Commission and the Pine Bluff Board of Code Adjustments and Appeals. In the music community, he serves as a board member of the Port City Blues Society, based in Pine Bluff, and is also a member of the Blues Foundation of Memphis.
While he performs Blues and Jazz professionally, his music interests are broader. Some of his favorite guitarists are B.B King, Buddy Guy, Eric Clapton, Robert Cray, Jeff Golub, George Benson, and Larry Carlton. His favorite music genres and forms include Blues, jazz, funk and blues-rock of all types.
Dave Sadler Music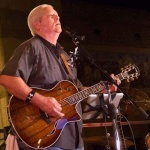 Sadler owns Dave Sadler Music which manages his professional music endeavors. He is represented by the Broadcast Music, Inc., a music rights organization; and, in addition to his discography described above, he has music represented in several music libraries plus a notable track record of recordings featured in advertisements, training videos, and online PR efforts.
The website for Dave Sadler Music provides his upcoming performances and has contact information for anyone wanting to book him. Also, he has shared selected pieces on Youtube and has events, music news, and music history posted through social media. Here are the links:
---
Endnotes
By Sadler's description, setting up the recording studio was just another task in the life of this busy musician and architect. He explains that digital equipment is more affordable and less bulky than the older analog equipment.