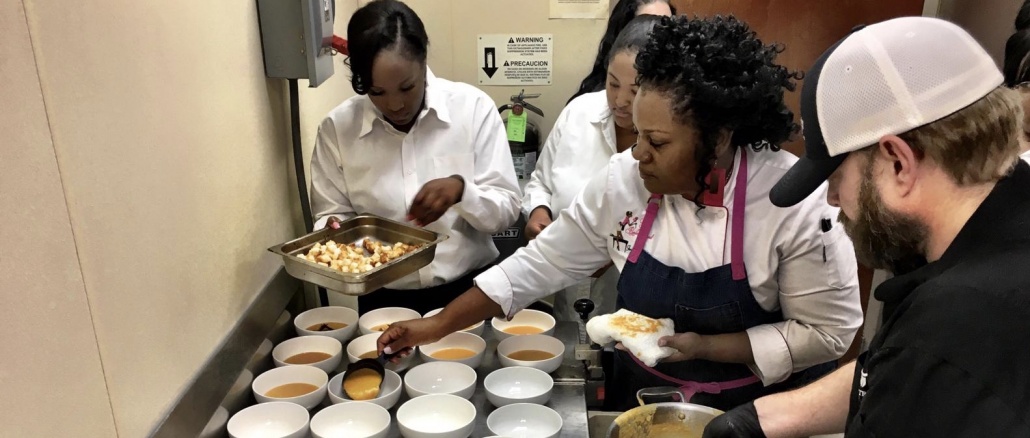 There's a new hospitality group in town. They talk of fine dining and cafés plus a Blues club and craft brewery in Pine Bluff's downtown district. The word is, their business menu will include well-paying hospitality jobs, with their own local chefs mentored by those from the national stage. Perhaps more important, though, is the group's commitment to community engagement. The company name? The Front Porch Hospitality Group.
Front Porch Hospitality expects its Pine Bluff locations to be standouts with the Blues venue and amenities in the Hotel Pines, once renovated. The plans are to have all their Pine Bluff establishments in historic downtown buildings. In the meantime, group members are taking first steps toward community outreach to learn what needs and wants to incorporate into their business plan. These are warm-hearted things to do. But they are also good for business and the local economy.
A Taste of Front Porch Hospitality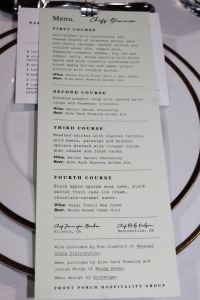 Recently, the Front Porch Hospitality Group served their Inaugural Chef's Dinner, held at the Donald W. Reynolds Center in downtown Pine Bluff. Here, they modeled their key ideas and visited with guests. They had recruited Chef Jennifer Hill Booker of Atlanta and Chef Rob Nelson of Bentonville to prepare an elaborate four-course meal. Booker, who has roots in nearby Mississippi, is a Le Cordon Bleu-Paris certified chef. She also is the author of several cookbooks, a television personality, educator, and business owner. Nelson is the chef and owner of Tusk and Trotter in downtown Bentonville. He studied in Avignon, France, and sports a track record that includes La Mirande, a one star Michelin restaurant.
The Front Porch Hospitality Group also brought in Arkansas' Josiah Moody of Moody Brews who provided a special brew and Kim Crawford of Natural State Distributing who served wine. Another in-state business, Bike Rack Brewing, provided beer as well. To the extent possible, the group hired local or in-state businesses; in the future, the plan is for Pine Bluff to have its own chefs and brewery, at the least.
Dinner guests included Mayor Shirley Washington, local nonprofit and business leaders, and people who do not make the news. The one guest singled out with introduction was Annette Dove, Founder and Chief Executive Officer of Targeting Our People's Priorities with Service (TOPPS). As it turns out, the dinner doubled as a benefit for TOPPS.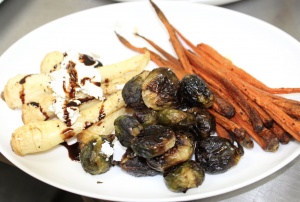 Initially, invitees joined the cocktail small talk before seating themselves at long, white-clothed tables; the place settings were the type that delight some and give others pause as they assess the required protocol. Four courses prepared by Chefs Booker and Nelson were served on platters, with each placed in easy reach of the diners sharing it. The meal included smoked catfish, roasted pumpkin soup, and all kinds of made-from-scratch eats. One taste was all it took to forget any notions of formality. People just dug in.
During the dinner, conversations blended thoughts on the food industry, music, family members, and books. Those in near vicinity, whether friends or strangers, divvied up servings' last remnants; one guest even gave his extra fork to a once-stranger who somehow got down to one spoon. The room was abuzz except for an occasional announcement or introductions of the chefs, wine distributor, or brewer.
The Arts of Culinary Creations and Community Engagement
By the end of the evening, what had seemed like formalities became understood as art, created with a medium called food and framed with lovely table settings. At another level, the entire event, really, had emerged as its own artwork, created with a medium of conversation and framed with a fine dinner.
The dinner plans surely aimed just for these effects, or so it seems. Daniel Hintz, a member of the Front Porch Hospitality Group, describes "food as an amazing diplomat and a shared table an embassy of place." The concepts Hintz speaks of are those of place-making, a practice that optimizes the use of public spaces and shared dining experiences. Place-making principles create a sense of community, all the more strongly when built on a town's culture and personality.
Of course, engaging an entire community can be a daunting task, and members of the Front Porch Hospitality Group realize that. Group members Stuart Hee and Nate Drinkwine describe community engagement as being key to their long-term plans, though they acknowledge the enormity of that undertaking. Hee explains that they are still writing the Preface, so to speak, not even Chapter One, with the dinner as merely one part of that.
Their upbeat tone, however, suggests they are up for the task. That bodes well for their business interests and for Pine Bluff, too. That is because incorporating community members' input when planning businesses — especially during urban renewal phases — improves a city's economic health.
The Economics of Culinary Creations and Community Engagement
It could go without saying that vibrant places attract people and thus create social and economic interactions. What is sometimes taken for granted, though, is the need to encourage people who do visit to slow down enough to absorb the experience and want to explore. This is what makes them more likely to return. This is what keeps the area socially vibrant, brings in business dollars, and helps reduce crime.
For a downtown district, the right blend includes a combination of public, not-for-profit, and business endeavors. Indeed, the City of Pine Bluff's plans for downtown streetscaping are right on target for this. People avoid empty, inactive areas or just pass through as quickly as possible. But they stop, park, and stroll down attractive sidewalks with greenery, especially if the sidewalks lead to well-kept museums, eateries, shops, or meeting places.
Pine Bluff's downtown, though still revitalizing, already has great assets along these lines. For arts, history, and culture, the district includes the Arts and Science Center for Southeast Arkansas; the Pine Bluff/Jefferson County Historic Museum; The New Community Theatre; and, just slightly to the west of the heart of downtown, the Pine Bluff Military and Veteran's Museum. In the meantime, plans for an arts and music heritage museum are underway; the exhibits will include the social and civil rights context of the art forms born of the area.
For business and professional purposes, this same downtown district already boasts of the University of Arkansas at Pine Bluff's (UAPB's) Business Incubator and the Donald W. Reynolds Center. The Pine Bluff Convention Center is in this same vicinity and serves both entertainment and business sectors. Not far away are Saracen Landing on Lake Saracen, just to the north across the expressway, and UAPB's main campus, within a few minutes' drive to the north-northwest, both of which serve as entertainment venues and meeting locations.
Shared, public spaces, however, also need businesses, and preferably small ones. Restaurants, cafés, bookstores, and small shops with local personality give visitors pleasant surprises over their unique discoveries and make residents feel at home. These are the places alive with the actual community; they are key to people's decisions whether to stay long enough to absorb the experience. Really, these shared places create the neighborhood version of the shared meal during which people slow down enough to explore a conversation.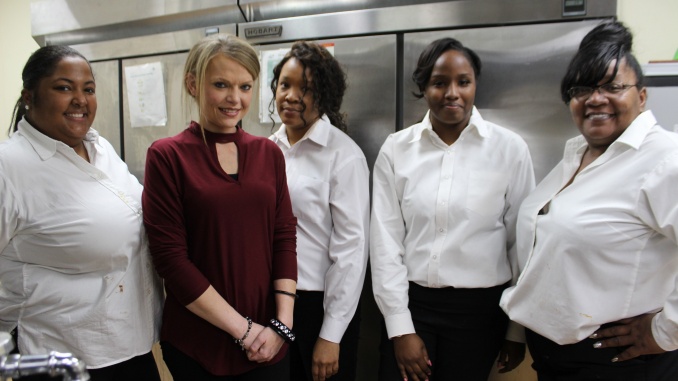 The Front Porch in the Hospitality
Time will tell how the remaining chapters of the Front Porch Hospitality Group will unfold. Group members do seem to realize the need for an authentic identity, not just a trendy theme. Also, one cannot help but wonder what input residents will give them. Secret family recipes? What a Blues club in the Delta Lowlands should look like? Photos of childhood front porches, perhaps to be posted on walls?
Regardless, Front Porch Hospitality Group's plans to engage community residents is quite refreshing. As Group member Tom Reilley explains, "Our hospitality concepts and culinary events invite and celebrate the communities in which we invest. In addition, Front Porch Hospitality Group strives to offer a wide variety of experiences that reflect and are relevant to the local culture while offering something entirely unique." It makes one think they do in fact have a front porch atmosphere in mind for their style of hospitality while keeping options open to add more of those special discoveries.
---
Meet the Team: The Front Porch Hospitality Group
The Front Porch Hospitality Group is comprised of Nate Drinkwine, Stuart Hee, Daniel Hintz, and Tom Reilley. Here are brief introductions of each member.
Nate Drinkwine
Nate Drinkwine is the architect of the group — that said as if all hospitality groups have an architect. Front Porch Hospitality has one, and that works out well, as he is designing and leading a number of downtown renovations, including the Hotel Pines. But Drinkwine brings blueprints for more than just buildings. He talks more of rebuilding a community than rebuilding structures downtown. Here is his professional background:
Nate Drinkwine is a registered architect and a LEED AP with an emphasis in building design and construction. His expertise is in renovations and real estate management, with nearly a decade of experience working as an architect in the education, small commercial, and multi-family sectors. Early in Nate's career he joined SLATERPAUL Architects where he worked to design and manage projects in the K-12 and higher education environments. In 2013, Nate established HEM Real Estate Solutions managing a successful real estate portfolio.
Stuart Hee
Stuart Hee comes from the worlds of finance, investment, and development. Since his arrival in Pine Bluff, he has become involved in the community and volunteer work. That and his efforts to learn the region's history are where his own community engagement started. Here is a summary of the experience he brings to the table:
Stuart Hee has spent the last 19 years working in various operations and finance roles. He most recently served as a Managing Director for Kalan Capital, a private equity firm where he served as a board member, interim CFO and interim COO for numerous portfolio companies. He joined Kalan from Bear Stearns where he spent nine years and was a Managing Director. While there, Stuart worked in the Boston office for three years and the London office for six years assisting clients with investments in real estate, structured products, hedge funds and private equity funds as well as traditional asset management. He currently sits on the committee for The Generator in Pine Bluff, as a commissioner for the Historic District Commission for the City of Pine Bluff, and as a board member of the Pine Bluff Collaborative. He holds a B.S. in Policy Analysis and Management from Cornell University.
Daniel Hintz
Daniel Hintz, a place-making expert, is the Chief Experience Officer of the Velocity Group, a team that develops concrete plans for urban planning, revitalization, or other improvements. They rely on the community's assets, including people and heritage, to make the most of shared spaces culturally, socially, and economically. A summary of his professional expertise follows:
Daniel Hintz is the founder and Chief Experience Officer of the Velocity Group. His varied background in culinary, marketing, teaching, film, theater, social services, urban planning, and economic development has informed his process of community experience design, creating a unique approach immersed in his DNA of Place and Theater of Cool models. He has worked on projects all over North America, including downtown master plans, regional placemaking strategies, culinary scene cultivation, tenant recruitment, event production, restaurant and hospitality concepts, property development, and public advocacy initiatives. Prior to starting his firm Velocity Group in 2014, Daniel served as the Executive Director of Downtown Bentonville, Inc., in Bentonville, Arkansas, where he helped broker and guide the renaissance of the 1,765-acre downtown district that includes a growing art, entertainment, culinary and entrepreneurial scene earning national attention.
Tom Reilley
Tom Reilley arrived in Pine Bluff to head the Highland Pellets Pine Bluff Plant which began operating in 2016. The more Reilley learned the community, the more attached he became. A summary of his biography follows:
Tom Reilley is an investor with a successful track record including his position as founder and Chairman of Highland Pellets and Orka Energy. Previously he was a Senior Managing Director and served on the International Executive Committee for Bear Stearns where he was responsible managing investment capital for ultra-high net worth individuals and institutional investors. Tom holds a B.A. in International Relations and Economics from University of Minnesota.
---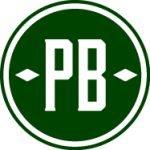 About the Author
Karen Coker, a native of Pine Bluff, is the editor and publisher of PB Junction. Though she started PB Junction as a creative and technical endeavor, she has found people's stories to be the most interesting part of it.